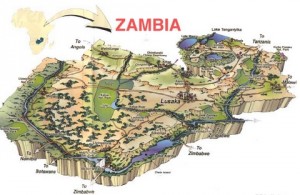 Zambia is set on a huge plateau.  The elevation brings the wonderful blessing of moderate weather most of the time.  Seventy to eighty degrees and low humidity.  Zambia has been called the "air conditioned" country on account of its comfortable weather.  By the way, there are only two seasons here: Dry (May-Oct) and Rainy (Nov-April).  There is a time difference of 7 hours  (ahead of USA time).
Zambia is developing quickly, especially in city areas.  The capital city is Lusaka. Here you can find quality hotel accomodation (up to 5 stars), car rentals as well as public transportation, Internet Cafe's, shopping malls, quality restaurants, banks, several cell phone networks,the International Airport, and much more.
One thing you will be sure to notice is the wonderful friendliness of the Zambian people.  Zambia is one of the few African countries that has never been at war.  Its a peaceful country, where people of different tribes live together as one nation.  The Zambian 'rythm of life' is much slower than the USA.  Life is slower, relationship driven, and uncluttered.  There is an openness here for people to hear about Jesus, His gift of salvation, and His precious Word – the Bible.