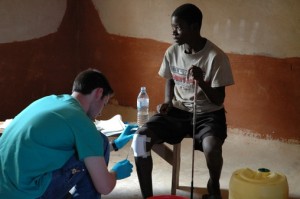 There are two Bible verses that are at the heart of what we do at Lumba Christian Ministries.   The first verse is the "Great Commission" and the second is the "Great Commandment".
Matthew 28:19 says," Go then to all peoples everywhere and make them My disciples: baptize them in the name of the Father, the Son, and the Holy Spirit"
Luke 10:27 says, " Love the Lord your God with all your heart, with all your soul, with all your strength, and with all your mind; and love your neighbor as you love yourself",
Sharing about Christ, loving God, and loving neighbor. That's what we're up to here in rural Zambia.   Maybe you have wondered, "What can I do ?" , since Jesus has called all believers to be involved in missions.
Here are a few suggestions on how you can partner with us :
1.   Pray regularly for  us to share Christ  boldly, clearly,and with love.   2.   Pray for our safety and health.   3.  Write us. It would be great hearing from you !   4.   Visit us.  Consider coming to help on a short-term mission trip.   5. Support us.  Send a one time, quarterly, or monthly gift to help support the work we are doing.   Donating is very easy. Simply make a check to  "Lumba Christian Ministries" , drop it in an envelope addressed to :
Lumba Christian Ministries
c/o Mrs. Angela Williams
152 Durand Ave.,   Hamilton, NJ   08611  ,    USA
***If you like, you can include a note with the donation and the note will be forwarded to us.***